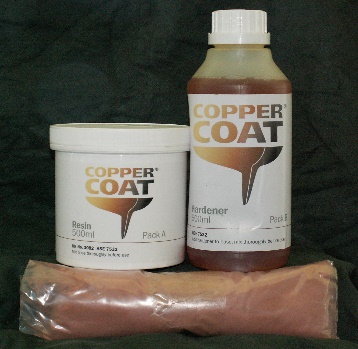 In the pages on our website you can:
Download a brochure


(requires adobe reader)

Download Adobe Reader
Please drop by and see us at the following boat shows:
Newport International Boat Show
Newport, RI
United States Sailboat Show
Annapolis, MD
St. Petersburg Boat Show
St. Petersburg, FL
Strictly Sail Pacific
Point Richmond, CA
To calculate how much COPPERCOAT you will need, Click Here
Why do we call
COPPERCOAT

"the 10+ Year Anti-Fouling"?

The average COPPERCOAT customer worldwide gets about 10 years of protection before they need to do their first touch-ups. That doesn't mean that 10 years is a magic number and you absolutely must do a touch-up; if you are in a mild fouling location it might be 12 years or more before you need to do anything. And if you are in a high fouling area and using an aggressive pad to clean the waterline it might be only 9 years.

What do we mean by touch-ups? For most sailboats, the first place to wear is around the waterline or the bottom of the keel. On powerboats, it is along the waterline and above the propellers. When these areas wear through (you will start to see through the COPPERCOAT to the layer beneath) you will need to haul the boat, sand ONLY the worn areas, and apply COPPERCOAT to those areas. You do not need to paint the whole hull again. These touch-ups normally only take 1 or 2 kits of COPPERCOAT and the boat is good to go for another 10 years or so.

One of the first boats with a COPPERCOAT bottom that we touched up here in the US (after getting EPA approval in 2009) was an Oyster 46 which had the COPPERCOAT applied 11 years earlier. The owners had spent 10 years in the Caribbean before sailing north to Newport, RI where they hauled out to do some other work and to touch-up around the waterline and a small spot on the leading edge of the keel. We did this touch-up using only 2 kits of COPPERCOAT after 11 years of service. That is extremely cost effective.

COPPERCOAT has proven to be very effective on propellers when they are properly prepared. In 2013 we started testing Coppercoat on props. We found that if we sandblasted the metal to get a proper anchor profile and then applied 2 coats of epoxy barrier coat before applying the COPPERCOAT it worked well. We don't claim that COPPERCOAT will last for 10 years on your propeller, but we do know that it is lasting 3 to 4 years before needing a touch-up on the tips of the blades. Follow the instructions in the "Coppercoat Do's & Don'ts" for applying barrier coatings, partial mixing, and mixing and applying the Coppercoat.

We have talked with a number of happy boat owners that have had COPPERCOAT on their hulls since 1992 and 1993 - that's 20 years!

This is a picture of the Oyster 46 after it was hauled, but before it was touched up.

What is
COPPERCOAT

?
COPPERCOAT is the combination of a specially developed zero VOC, water miscible epoxy resin and 99% pure copper powder (not cuprous oxide). Each liter of resin is combined with 4.4 lbs of ultra fine atomized copper powder, making COPPERCOAT the strongest copper based anti-fouling available. Indeed no other anti-fouling exposes as much active copper to unwanted marine life as COPPERCOAT.
How can
COPPERCOAT

reduce my maintenance costs?

You cannot make a better maintenance investment than using COPPERCOAT. Because COPPERCOAT is such a long-lasting and durable anti-fouling coating, you will not need to haul your boat and reapply bottom paint as often as you do with traditional bottom paints. You save money in haul-outs and in the cost to purchase and reapply bottom paint.

COPPERCOAT

has an unequaled proven lifespan of 10+ years, with a continual sales record dating back to 1991. No other copper based epoxy anti-fouling has the enviable pedigree of the original

COPPERCOAT

.
How can
COPPERCOAT

help reduce my fuel bills?

A clean bottom is always faster than a dirty one, and since COPPERCOAT is smooth and doesn't absorb water like traditional anti-foulants, our powerboat customers have reported an increase in top speed and a somewhat lower fuel burn rate at the same speed as before they applied COPPERCOAT. This smooth and efficient bottom is also very valuable to those who race their sailboats because your COPPERCOAT bottom can be burnished to a very smooth finish; you can gain speed and fuel efficiency over a bottom coated with regular bottom paints.
How can
COPPERCOAT

help me to better protect the environment?

COPPERCOAT is a "deterrent", which means barnacles and other growth that don't like real copper simply don't attach. It's one of the hardest copper based anti-fouling coatings available today; the rate at which the copper is released into the environment is MUCH slower and lower than ablative and non-ablative bottom paints containing cuprous oxide or even copper. COPPERCOAT is far better for our environment!

Coppercoat USA has the exclusive distribution rights for the United States of America and most of the Caribbean. We are committed to providing the best anti-fouling solution for a very reasonable cost. You will be pleasantly surprised how quickly your investment will pay dividends.
How is
COPPERCOAT

applied?

A COPPERCOAT aplication is not difficult, but it is very different than applying traditional anti-fouling; in fact, it's more like applying epoxy. For the product to work as designed it must be applied correctly, including proper preparation. We ask that you thoroughly review and understand the information in the Application Instructions and Do's and Don'ts and view the application video on the application page before getting ready to apply COPPERCOAT.

Please don't hesitate to call or e-mail your questions and we'll be happy to give advice about proper application when you contact us or place your order.